Slam Academy is a multimedia art and music studio located in Minneapolis.  The space hosts events in many disciplines, including live music by national and international talents, and classes, lessons, and open time every week. The studio includes a generous four-corner sound system and plenty of space to experiment with light, sound, and images.
Tours by appointment: Monday - Friday, 1pm - 7pm
If you are interested in learning more about Slam Academy, getting a feel for what we are all about, or just getting to know some of the teachers and students, come down and let us give you a personal tour!
Tours are totally free, with no commitment or obligation to take a class. Everyone that takes a tour will have the opportunity to meet with instructors, and talk with some of our experts. You can watch some demos being created on the fly, and get one-on-one tips from our advanced students and Teaching Assistants.
---
---
Studio A: The Performance Hall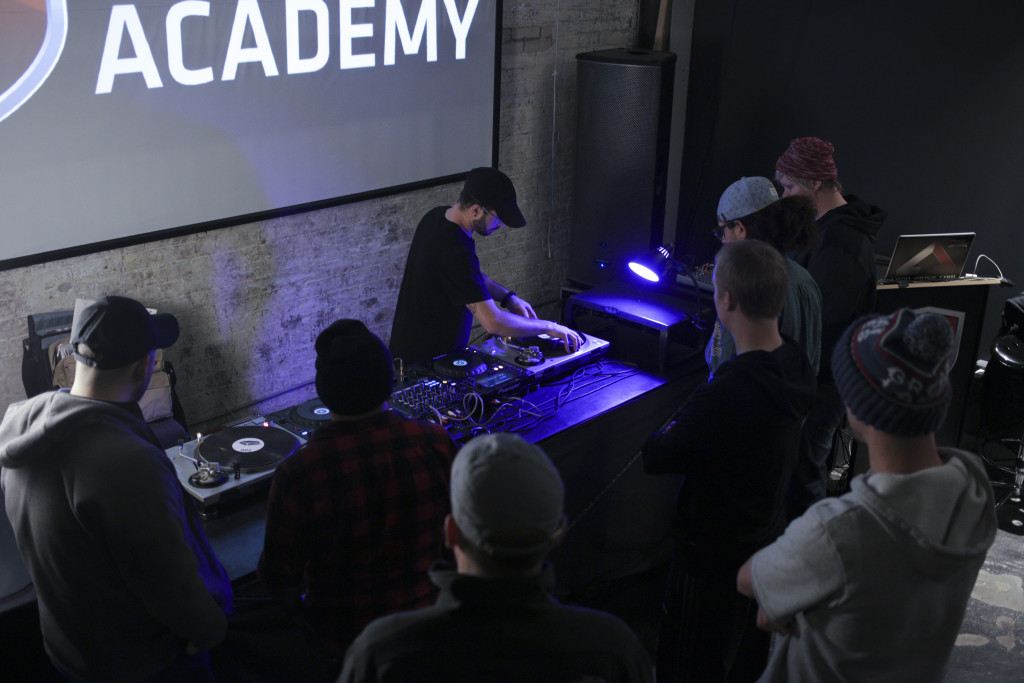 The Slam Academy Studio A is our newly renovated space. It has a full range 3-way PA with custom 21" bass bins stacked high, video projection, and seats about 45 people. The main room is used to host our larger classes, workshops, and special events. Studio A is a full-fledged performance venue, complete with a 4 channel, 3 way sound system, full DJ booth, and accommodations for an entire band. When it isn't being used as a classroom or a venue, you will often find our faculty hanging out there, working on their own music.
Studio B: Sound Design Lab
Our new Studio B classroom holds our impressive collection of synthesizers, controllers, and sound-making devices. This classroom is used for our sound design classes and is equipped with a 2.1 channel sound system, 18' sub, video projection, and desks to seat 8. Classes in this room including Making Music with Machines, Sound Design, Max For Live, and many more.
Studio C: Mixing and Mastering Suite
We are extremely excited to have our own mastering suite as our third classroom. This room is acoustically treated, and includes a variety of sound systems, a large screen display, and is setup to record, mix, edit, and master a full band. Classes in this room including Expert Mixing, Mastering 101, and many others.
Studio D: Production Workstation
Studio D is an intimate space used for one-on-one instruction, private lessons, consultations, or just private time to work on your tracks. Students take advantage of studio D when they want to hear their mix in some monitors, using some equipment, or just have a quiet room to work.
The Waterbury Building
Slam Academy is located in the historic Waterbury Building in Northeast Minneapolis, suite 142. Free Parking is available in the Waterbury parking lots (in front of behind the building).
Getting there by bike:
There is a NiceRide station (for bike rentals) 4 blocks away at Logan Park, on the corner of Monroe and Broadway.
Bike parking can be found in the parking lot behind the Waterbury building.
Getting there by public transportation:
The Academy is easily accessible by the 17C, 17D, 17W, 10, 10U, 10H, and 30 bus lines.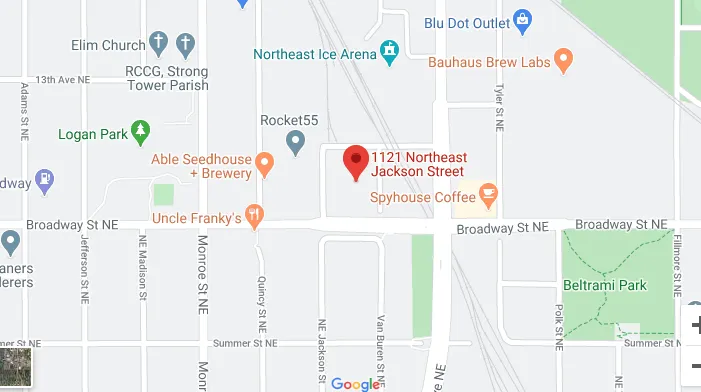 ---
Living in Minneapolis or Denver
Students who choose to move to the Minneapolis or Denver area to study with us won't regret it. Whether the move is temporary or permanent, we think that our locations in two of the country's most affordable art-centers is a huge asset.
Minneapolis (and it's twin-brother, St. Paul) has a thriving art scene filled with music, dance, galleries, theaters, experimental studios, and much more. The state has an impressive mandate for arts funding with a percentage of tax dollars, and the cost of living is more affordable than any other major metropolitan area in the country. You will find the art and music communities to be friendly, supportive, and collaborative.
The city is known for its green-space, bike trails, and clean lakes (not to mention Prince, Bob Dylan, and many other legendary musicians). We've been voted one of the best cities for biking, LGBTQ+ rights, summer vacationing, parks, fitness, craft beer, runners, "least stressed", most educated, meatballs, and much more. (source)
With our online programs, you don't have to move here to study with us. But if you decide to, we think you will find Minneapolis to be an oasis in the Midwest. (And the winters aren't really that bad, trust us.)
Housing in Minneapolis
A typical one-bedroom apartment in Minneapolis will range from $600 – $900/month depending on the neighborhood. We recommend searching for an apartment on Craigslist, in the Northeast Neighborhood (close to Slam Academy):  https://minneapolis.craigslist.org/search/apa
Or, look for a long-term rental from AirBnB: https://www.airbnb.com/s/Minneapolis–MN–United-States/homes?allow_override%5B%5D=&s_tag=nKHhO_E_
Transportation
Slam Academy is accessible from anywhere in the city by bike, bus, or train.
Bike: The "Greenway" (sort of like a highway for bikes) circumvents the city and will get you very close to Slam. http://midtowngreenway.org/about-the-greenway/
You can also rent a Nice Ride bike by the hour for quick transportation. https://www.niceridemn.org/pricing/?gclid=EAIaIQobChMIpoD5pauC1QIVD7XACh0qYQMiEAAYASAAEgJbbfD_BwE
Bus: Slam Academy is located near the 10, 17, and 30 bus lines.
Train: The Lightrail train runs around the city, and will get you close to Northeast Minneapolis. From there you will need to take a bus, a NiceRide, or a couple of mile walk.