Studio A: The Performance Hall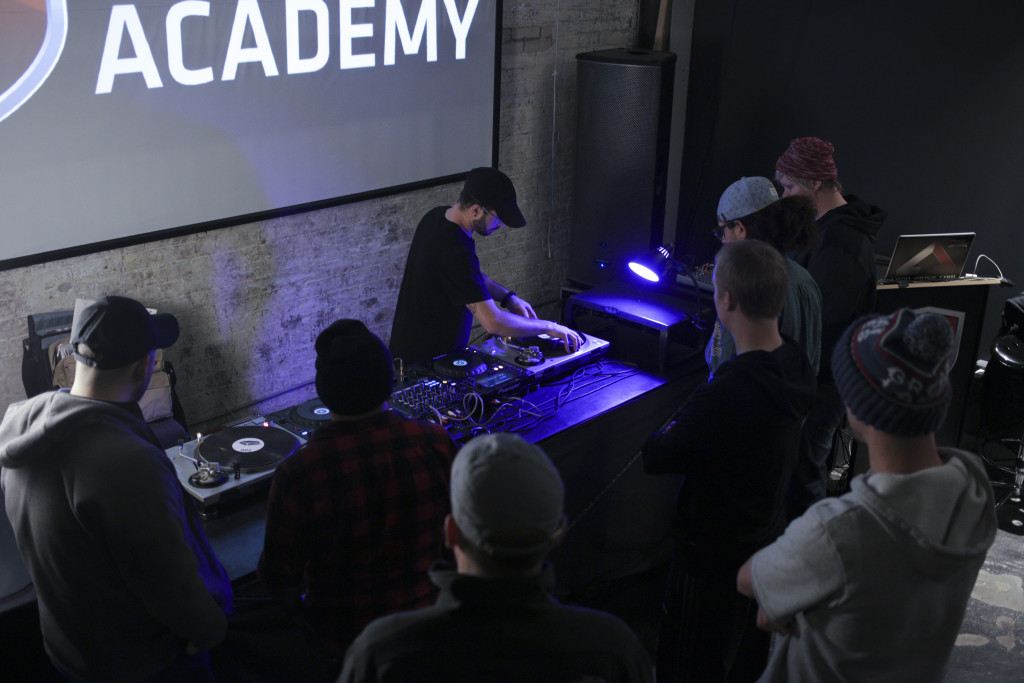 The Slam Academy Studio A is our newly renovated space. It has a full range 3-way PA with custom 21″ bass bins stacked high, video projection, and seats about 45 people. The main room is used to host our larger classes, workshops, and special events. Studio A is a full-fledged performance venue, complete with a 4 channel, 3 way sound system, full DJ booth, and accommodations for an entire band. When it isn't being used as a classroom or a venue, you will often find our faculty hanging out there, working on their own music.
Available by appointment only:
Monday – Sunday 8am – 2am
N/A Monday – Thursday 6-10pm
Studio D: Production Workstation
Studio D is an intimate space used for one-on-one instruction, private lessons, consultations, or just private time to work on your tracks. Students take advantage of studio D when they want to hear their mix in some monitors, using some equipment, or just have a quiet room to work.
Available by appointment only:
Monday – Sunday 8am – 2am
A Slam Academy Representative will be in contact with you after your purchase to confirm & schedule your studio time. If you have any questions, feel free to reach out to us by emailing [email protected].
Slam Academy reserves the right to cancel any reservation and refund bookings at its discretion. Every person will be required to sign our COVID-19 waiver form, which will be emailed when confirm your bookings, before you will be permitted to attend the booking.
---