Denver Flagship: Ableton Live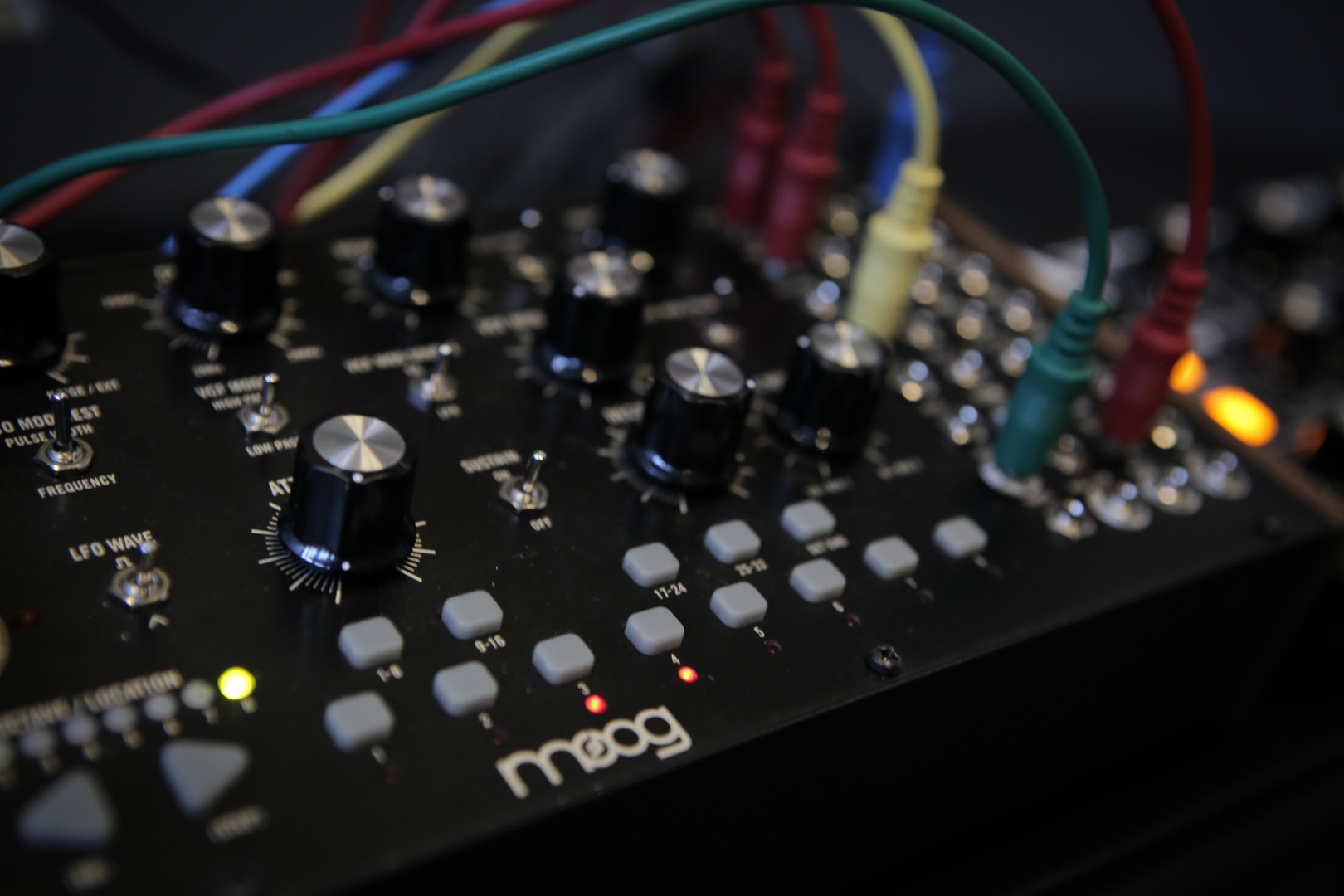 Denver Flagship: Sound Design
Denver Flagship: DJ I
Click here to add your own text
Intro Classes:
March 9 @ 7:00 PM - 8:30 PM
Starts:
March 16 @ 7:00 PM - 10:00 PM
Ends:
August 31 @ 7:00 PM - 10:00 PM
The Ableton Program is the most rigorous training we offer in Live. It is a comprehensive and systematic approach from the ground up, designed for the most dedicated Live students. This sequence takes the novice producer through the most advanced content and cutting-edge techniques, equipping you with all the tools you will need to be a professional Live user.
Alden Groves (Evoke) is the lead instructor for Slam Academy – Denver's Ableton Live Program, teaching alongside substitute / guest instructors Bill Day (Mr. Bill), Tom Brennan (Keota), and David Harri.
Software Requirements: Ableton Live software (Suite preferred)
Enrollment limit: 15 students
Live Level 1: Interface Navigation
Create your own original music sketches using Ableton Live's Factory Library sounds. Understand and practice the general workflow of music creation within Live. Customize Live to behave the way you want it to, and arrange your own grooves, basslines, melodies, and harmonies using Live's virtual instrument collection.
Live Level 2: Sequencing and Recording
Create your own original sequences using Live's intuitive Session View. Record your own sounds into Live and warp them to your own grooves. Mangle and twist those recordings to create entirely new sounds for your arrangements. Record yourself jamming on the knobs to add life to your sketch with automation and modulation.
Live Level 3: Arranging and Editing
Create intricate changes, drops, breakdowns, tempo changes and more using Live's Arrangement View. Chop, slice, reverse, and further refine all of your sounds to create riveting sound environments. Record yourself improvising across the timeline to further enhance your tune. Export your first fully arranged and edited song by the end of this level!
Live Level 4: Effects Processing
Turn your electronic music into something incredible with professional effects processing techniques. Sculpt your audio creations into exactly what you imagine using your own custom signal processors. Improvise with these custom processors in your own music, or live on stage using Slam Academy's world class techniques.
Live Level 5: Synthesis and Sampling
Create your own original sounds from scratch. Build your own synth leads, basses, drums, pads, sound effects and more, entirely with Live's virtual instrument collection. Incorporate those into your final project for this level to create your own entirely original electronic music composition, from the very ground up!
Live Level 6: Controllers and Instruments
Add more human control to your music by connecting your own controllers and instruments to Live. Customize your APC40, Push, and other Control Surfaces to respond exactly the way you want them to. Learn the world of recording interfaces and external hardware. Record synthesizers, drum machines, and musicians playing real instruments alongside your arrangements.
Live Level 7: Performance
Play your own original songs live in front of an audience. Design a live performance set that will allow you to jam alongside live musicians, DJs, and more using Ableton Live and a MIDI controller of your choice. Also learn how to DJ with Ableton Live in this level. Complete the level with a short live performance of your own tunes.
Live Level 8: Mixing and Mastering
Push your original songs onto the world stage using industry standard Mixing and Mastering techniques. Polish your own songs alongside Slam's expert mix engineers. Hear your own songs stack up to the loudness and clarity of your favorite all time tunes. Finish this level with a completed original song or EP, ready to share!
March 16 @ 7:00 PM - 10:00 PM
September 21 @ 7:00 PM - 10:00 PM
Classes meet on Mondays
New start every 6 months!
Dates my be subject to change.
Intro Classes:
March 10 @ 7:00 PM - 8:30 PM
Starts:
March 17 @ 7:00 PM - 10:00 PM
Ends:
September 1 @ 7:00 PM - 10:00 PM
… Apply that knowledge to modern synthesis types (FM, wavetable, granular, and physical modeling), sampling, re-sampling, and finally advanced signal processing. Create, observe, sculpt, sample, and process sounds using the same exact tools and techniques of the world's leading sound designers. Use cutting-edge devices by world leading developers such as Glitchmachines, U-He, Applied-Acoustics Systems, Madrona Labs, and more!
Tom Brennan (Keota) is the lead instructor for Slam Academy – Denver's Sound Design Program, teaching alongside substitute / guest instructors Bill Day (Mr. Bill), Alden Groves (Evoke), and David Harri.
Software Requirements: Ableton Live Suite software
Prerequisites: Ableton Live Program or intermediate knowledge of a DAW
Enrollment limit: 15 students
Sound Design Level 1: Analog and Subtractive
Become familiar with the history and origins of electronic music through the exploration of the Analog Subtractive Synthesizer. Start with historical accounts and innovations, and then look into virtualized versions of these classic machines. In particular, the Ableton Analog will cover all of our Analog Subtractive bases for Level 1, so let's keep that loaded onto a MIDI track for the duration of Level 1. We will also be configuring our first Audio Effect Rack in Live, in the Oscilloscope and Spectral Analysis equipped Visualizer Rack. We will be applying those tools in the creation of classic bass, lead, pad, percussion, and sound effects, and saving those presets into a well-organized sounds directory to submit for our final project on the end of Level 1.
Sound Design Level 2: Advanced Modulation
We will begin this level still in the Analog world, building on what we learned in Level 1. Still working with the Subtractive language, but adding on to its capabilities through advanced modulation and waveshaping techniques. For the 2nd half of the level, we will be introducing computer technology to the equation through the use of true FM Synthesis. First we break down the core elements through the creation of lead and bass sounds, and then we finish the level by designing our own custom FM Drum Machine for the Level Project! Gonna be a good one!
Sound Design Level 3: Effects Processing
For this level, we will begin with the fundamentals of audio signal processing, based on the 3 primary dimensions of sound. We will then relate those dimensions to our audio effects device collection in Live. We will begin with EQs and Filters, move through time based effects and modulation effects, and then finish off the level with our Dynamic Signal Processors like Compressors and Gates. The final elements of polishing up our mix and timbre will be covered in Level 6 with saturation, distortion, and mastering techniques.
Sound Design Level 4: Sampling
For this level we learn the art of sampling, from top to bottom. Beginning with recording techniques and professional audio file management, moving through the basics and tricks of sampling audio with the Ableton Simpler. Through this, we learn about time compression and Warp Modes, proper gain staging, and a whole slew of Ableton Live audio engine tricks. We then apply that knowledge to the Ableton Sampler and the creation of complex and intricate sounds on the Timeline, known as "composite sounds."
Sound Design Level 5: Advanced Synthesis
For this level, we will be covering a variety of advanced synthesis languages. All of which take advantage of modern computing power and cutting edge interface designs. We will begin by furthering our control of "playback speed" inside of a sampling instrument with Wavescan Synthesis, and then we will be smearing and spraying those slices into clouds of texture with Granular Synthesis. We will add harmonics and organic warmth and nuance to our textures with Physical Modeling Synthesis. Then, we will relate that scanning and morphing waveform concept back to the oscillator, but now with a collection of waveforms to morph between within Wavetable Synthesis. WOW! Big stuff in this level! All of the major components of modern, cutting edge electronic music get covered here! *Be sure to check out "Synthesis Language Building Blocks" PDF to help visualize what language to reach for, and when!
Sound Design Level 6: Distortion and Mastering
Learn to finalize the creation of world class sounds through the professional application of timeline-based editing and compositing of your own original sound design creations. Polish them up to scream with spectral processing, analog and digital distortion, and world class mastering techniques. Finish the program with final projects that include an original short film score, or sample pack of all original sounds, presets, wavetables, and more!
March 17 @ 7:00 PM - 10:00 PM
September 22 @ 7:00 PM - 10:00 PM
Classes meet on Tuesdays
New start every 6 months!
Dates my be subject to change.
Intro Classes:
March 8 @ 7:00 PM - 8:30 PM
Starts:
March 15 @ 7:00 PM - 10:00 PM
Ends:
June 7 @ 7:00 PM - 10:00 PM
Start with the history of DJing and dive right into beat matching, mixing, and scratching on the real Technics 1200s. Once the class is rocking the decks, hands-on every day, we move to CDJs and Native Instrument's Traktor.  These are the digital alternatives to turntables, and what everyone in the real world of DJing is using.
John Schmulowitz (Prismatic) and Thadeus Blue Deal co-teach Slam Academy – Denver's DJ I Program.
Software Requirements: None
Enrollment limit: 10 students
DJ I Level 1: Turntables, Beatmatching, and Mixing with EQ
In the first level of the DJ I program, we will begin by learning the history of DJing and where it all began. We will learn together, how turntable-ism was first used, and how it has evolved today. We will observe classic DJ techniques, and get a feel for the fundamental tools used in the DJ booth. Each student will get a hands-on feel for the analog turntable, DJ mixer, and prepare for dropping their first beat. We will explore the various beat structures of popular genres, and learn the ins and outs of mixing tunes together and why.
We will look deeper at what it means to be a DJ as someone who performs when they play. We will explore ways to choose certain kinds of tracks for certain kinds of audiences, and to set the tone and handle the energy of the room accordingly. We will learn how matching beats by tempo and songs by key can help us assemble more cohesive sets, and how to use these tools to ensure that the story we are telling is clear to our audience.
DJ I Level 2: CDJs, Controllers, and Software
We will be focusing our efforts on "hands-on" time in the booth. Preparing for our first sets, each student will have time working the turntables with the instructor's guidance, preparing their tracks and getting a feel for beat matching and really touching the music. Once everyone can lay down a short set of beat matched material, keeping things flowing, we finish our time with the vinyl turntable and look to the digital age of CDJs and Traktor.
Playing a set for a dance floor on "club" style equipment in the 21st century means using Pioneer CDJs. Spend these weeks in the Slam DJ booth with the Pioneer Nexus CDJs and Mixer, learning the interface and having fun. Link the players to your flash drive, set cue points, beat match, mix your tunes in key or even transpose them if they aren't! Sync your tunes here to spend even more time tweaking filters, setting loops, or applying effects on the DJ mixer.
DJ I Level 3: Advanced Mixing, Scratching, and using FX
We explore "DVS" systems, such as Traktor and Serato. Hear we can apply what we already know about signal flow in the DJ booth, the DJ mixer and turntable, EQ and effects, all to an entirely virtual system. Connect a MIDI controller to your laptop and evoke the same feel as a DJ in an expensive CDJ/Turntable DJ booth! Learn the ins and outs of Traktor, and get in some hands-on time with the instructor, playing your own tunes on these systems. The goal here is to be able to speak the language of the DJ, regardless of the type of playback technology in the mix.
The final performance here is a highlight for everyone at Slam Academy. Rehearse your set with the group, get feedback from the instructor, and prepare for your big performance. Rock a set of your own songs on our big system, and invite your friends because this always turns into a party! Come in for the final feedback session on the last week to get the lowdown on your performance highlights, as well as any constructive criticism to consider for your next gig. *Be sure to stay in touch with Slam via your SlamPass, because there are always gigs and party opportunities for Slam crew and regulars!
March 15 @ 7:00 PM - 10:00 PM
June 21 @ 7:00 PM - 10:00 PM
September 27 @ 7:00 PM - 10:00 PM
Classes meet on Sundays
New start every 3 months!
Dates my be subject to change.
There is no application, and all experience levels are welcome. Just signup with the red buttons!
To enroll in the Denver Flagship Package, purchase below. This price includes all the required classes, at a significant discount from buying them individually.  
After payment for the program package is received, we will contact you to welcome you to Slam and answer any additional questions.
Price: $7844 (Includes all classes, All Access pass to all Slam Academy regular classes, (including online classes) and up to 13.5 months of SlamPass)
Payment plans are available for this program.
Join the Touring DJ Package for only $490/month using our simple payment plan.
If you have any questions about the program, please contact us.
Enrollment Includes:
Admission to all DJ I, DJ II, Ableton Live, and Music Industry Program Classes
Weekly feedback on tracks and projects during class Lab Time
Feedback on midway and final projects from Slam Teachers and Guest Artists
25% Returning Student Discount on all future enrollments*
Free Instant Access Pass (access to complete non-program online video library)
Discounts and Special Offers on hardware and software from our friends at Foxtone Music
* Not valid with other discount offers & coupons.
2 week Add/Drop period – Money Back Guarantee